TRAVEL TIPS:
Wisconsin Cheese Trail
Go to this web site for easy locations and traveling direction to one of the many Cheese Crafters in Wisconsin:
Eat Wisconsin Cheese
What can be easier than to grab your keys - hop into your "Black Top Cafe" and hit the WI Cheese Trail and nosh on fresh cheese curds, gouda, colby or chedder!
DOOR COUNTY
Check out this web site: Door County, Wisconsin
'Oh the places you can go in a LINCOLN in DOOR COUNTY!
Fishing, antiquing, thrifting,cherries,goats on the roof, art, sight seeing, Beautiful Lake Views and romantic Sunsets, Children activities, Lighthouses, Wine & Cheese Crafters - COME On DR. SEUSS let's hit the ROAD..and GO....!!!!
NOTE: September is a time to go to DOOR COUNTY for their Culinary Tour "A Kingdom so Delicious"  and catch their wonderful turning of the leaves!
Well anytime is a great time to see this beautiful area!
ICE AGE TRAIL - WISCONSIN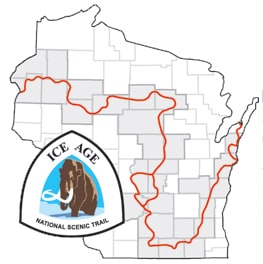 Connect with Wisconsin's "Gift of the Glaciers"
More than 12,000 years ago, an immense flow of glacial ice sculpted a landscape of remarkable beauty across Wisconsin. As the colossal glacier retreated, it left behind a variety of unique landscape features. These Ice Age remnants are now considered among the world's finest examples of how continental glaciation sculpts our planet.
The Ice Age National Scenic Trail is a thousand-mile footpath - entirely within Wisconsin - that highlights these Ice Age landscape features while providing access to some of the state's most beautiful natural areas.   *copied from the www.iceagetrail.org web site
EAU CLAIRE/CHIPPEWA FALLS:
Charming cities that are bless with the beautiful Eau Claire River and Chippewa River. Quaint Downtown's with friendly Shops and Delicious Restaurants. Leiniekugel Brewery Free Tours - 7 Days a week in Chippewa Falls Carson Park in Eau Claire filled with beautiful trees - baseball field and fun for everyone Oakwood Mall on the Southside of Eau Claire for great shopping and off of I-94 - Eau Claire Ford Lincoln - ready to help you have MILES of fun and safety in your vehicle!
If, you have any great travel tips - please feel free to join us on "Eau Claire Ford Lincoln  Facebook Page" and upload photos and add some travel ideas! Great Video on Eau Claire below:
Thank you!  Sherry
CHECK ROAD CONDITIONS:
Call 511 or go to www.511wi.gov
the above will give you other state road conditions options as well.Winter Travel Tips:  provided by "Wisconsin Emergency Management".
1. Make sure there is a winter emergency survival kit in each of your family's vehicles. The kit should include:
Shovel, windshield scraper and small broom
Flashlight with extra batteries
Battery-powered radio
Snack food including energy bars and water
Matches and small candles
Extra hats, socks and mittens
First aid kit with pocket knife
Necessary medications
Blankets or sleeping bag
Road salt, sand or cat litter for traction
Booster cables, emergency flares and reflectors
Fluorescent distress flag and whistle to attract attention
Cell phone adapter to plug into car lighter
Take it slow when driving
Car Safety for Children Motor vehicle crashes are the leading cause of death in children in the United States.
This horrible statistic is made worse when we discover that 75% of child fatalities and 50% of child injuries could be eliminated with the consistent and correct use of child safety seats and safety belts. Educate yourself about your responsibility as a caregiver/parent to provide the children in your care with the protection that law and common sense dictate. When you drive with children in the car, children must be in safety seats and belts and in them correctly.
Placing children in safety seats is not the end of the problem. Statistics indicate that up to 50% of children who are placed in seats may be placed incorrectly. This can lead to injury or death. It is important to educate yourself in order to protect your child. Safety seats are safety equipment! Buy the correct child seat according to the child's weight, height, and developmental ability.
Check safety seat and vehicle safety belt system compatibility. If buying second hand, ensure that the seat has not been in an accident, that it meets federal standards, has all necessary belts, buckles, and clips and that manufacturer directions are available. If it is missing any of the mentioned, pass it by.
Not all child seats can be installed in all vehicles and all seating positions.
With numerous models of child seats, almost 300 models of passenger vehicles, and the wide range of belt systems available today, correctly installing a child seat can be challenging. The best way to be sure your child seat is compatible with the vehicle you are considering is to test it before you purchase or lease the vehicle. Be sure to read the child seat's instruction manual and review all information in the vehicle owner's manual concerning correct installation. Once the seat is installed, check it by firmly pulling the base of the child seat from side to side and forward. The child seat should not move more than one inch in any direction. Whether you have a front passenger side air bag in your vehicle or not, remember that children are always safer in the back seat. When children out-grow forward-facing safety seats, they need to be restrained in belt-positioning booster seats - until they are big enough to fit properly in an adult seat belt. Children who cannot sit with their backs straight against the vehicle seat back cushion, with knees bent over a vehicle's seat edge without slouching, are not big enough for adult seat belts. Many Parent skip this very important step. Children generally outgrow convertible child safety seats when they are about 40 lbs. From 40 to about 80 lbs. and about 4'9" tall, children should always be seated in a belt-positioning booster; lifting them so adult lap/shoulder seat belts are "positioned" correctly and safely. Plus, booster seats offer children better visibility and comfort. Conditioning your children at a young age to wear a seatbelt is essential for your child's safety. Many car companies are adding child safety seats to their car models. These permanent seats are designed to restrain children at least 1 year old and at least 20 pounds in a forward-facing position. Because they are built into the vehicle, these seats are an effective restraint system for children. Built-in child seats have an advantage over add-on child seats because they do not have compatibility problems with the vehicle's seat design or seat belt systems. We need to work together to protect and educate all children. Always take care to buckle up the children you care for. Sources: NNCC & NHTSA
Wisconsin Child Passenger Safety Laws
Rear Facing Child Safety Seat in the Back seat is required when the child: Is less than 1 year old - Weighs less than 20 pounds.
Forward Facing Child Safety Seat in the back seat is required when the child: Is at least 1 year old but less than 4 years old - Weighs at least 20 pounds but less than 40 pounds.
Booster Seat is required when the child: Is at least 4 years old but less than 8 years old - Weighs at least 40 pounds but less than 80 pounds. Is not 57 inches (4 feet, 9 inches) or taller.
Safety Belt is required when the child: Is 8 years old or older or Weighs 80 or more pounds or is 57 inches or taller!
---
Eau Claire Ford Lincoln  a Wisconsin Automotive Dealer encourages you to check frequently for updated laws and tips from the Wisconsin Department of Transportation. Contact Wisconsin Information Network for Safety at toll free 1-866-511-9467 or their web site at:  Child Safety - Transportation.